Display Cases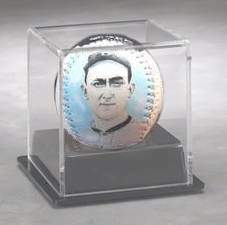 See The List Below
We have quite a few different models to choose from.
It's a good idea to keep your baseballs safe from dirt, dust and ultra violet rays from the sun.
Plus, your friends will be able to look at your baseball but not touch it!
Click on each one below for pricing and details. Shipping is included in the price. So if you see similar products else-where for a lower price, that's why (Always be aware of hidden shipping fees). You pay no extra shipping charges if you live in the Continental United States.
Please email me for an International shipping quote before ordering.
Single Ball Display Case: $22.00
Single Bat Display Case: $85.95
Deluxe Single Bat Display Case: $96.00

Single Ball Display Case With Slanted Back: $23.00

Single Ball Display Case With Gold Glove: $25.00

Single Ball Circular Display Case : $27.00
Mirrored Back Large Bobble Head Display Case with Baseball Holder : $36.00
Single Baseball/Trading Card Display Case: $24.00

Single Ball Octagon Vertical Display Case: $31.00

Two Baseball Display Case with Black Formed Base: $24.00

Two baseball display case with gold glove holders, black formed base: $30.00

Three baseball acrylic display case with a black formed base: $26.00

Three baseball display case with gold glove holders: $35.00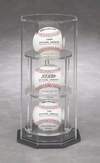 3 Baseball Octagon Vertically Stacked Display Case: $38.00

Four Baseball Display Case With Formed Black Base: $30.00
Four Baseball Acrylic Display Case with Gold Glove Holders: $45.00
Five Ball Display Case with Formed Black Base: $35.00

Five Baseball Acrylic Display Case with Gold Glove Holders: $59.00

Sign Up For My Free Newsletter!



Return From Display Cases To My Home Page