Harry Kalas Baseball
My Great American Harry Kalas Baseball is a special tribute to the Phillies Hall of Fame broadcaster. A certificate of authenticity comes with your baseball so that you know it's an original Great American Baseball.
This Baseball Has Been Sold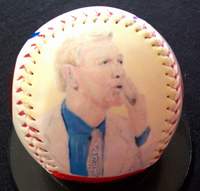 Side one is an original painting of Harry Kalas.
Side two has a golden microphone and head set commemorating Harry's golden voice.
Side three shows Harry Kalas' famous "Outta Here!" call.
Side four is a hand painted, classic Phillies "P" from the memorable 1970s.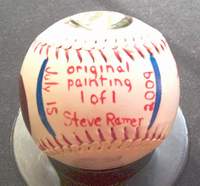 Side five shows my signature and the date this Great American Baseball was completed. It also has 1 of 1. This means that this is number one of only one created. This is an original piece of art. There will never be another Harry Kalas Baseball exactly like it.
And side six has the year that Harry Kalas was inducted into baseball's Hall Of Fame.

Return From Harry Kalas Baseball To My Great American Painted Baseballs