Home Plates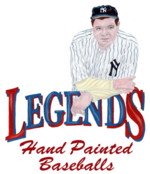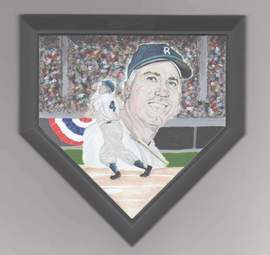 Legends Hand Painted Home Plates.
These home plates are 10 inches wide. They look and feel just like a real home plate!
For the home plates with the team logo on them, I start with a "Schutt" home plate which has the team logo on it. Then I add my paintings of the players.
(You pay nothing until your home plate is finished)
Free Shipping anywhere within the Continental United States. Display case NOT included.
(Add $15.00 for International Shipping. This includes Hawaii, Alaska and Puerto Rico)
Like my Legends Hand Painted Baseballs, each hand painted home plate is an original, one of a kind piece of artwork.
On the back of your home plate you'll find my signature along with the date it was completed and the series number which will always be 1 of 1.
This shows you that it's one of only one in the series. I'll never paint another one exactly like it.
If you have a request for a hand painted mini home plate, please contact me.
See step by step how I create your painted home plate.
If you see a home plate that has been sold and your are interested in it, I can paint another one for you.
Cardinals Home Plate AVAILABLE
Rogers Hornsby and Stan Musial

Pirates Home Plate AVAILABLE
Roberto Clemente, Willie Stargell, Honus Wagner

 Richie Ashburn Home Plate SOLD

Sandy Koufax Home Plate SOLD

Clete Boyer Home Plate 1 SOLD

Clete Boyer Home Plate 2 SOLD
Dodgers Home Plate 1 SOLD
Jackie Robinson, Pee Wee Reese
Dodgers Home Plate 2 SOLD
Duke Snider

Dodgers Home Plate 3 SOLD
Jackie Robinson

Dodgers Home Plate 4 SOLD
Vin Scully, Red Barber

Dodgers Home Plate 5 SOLD
Johnny Podres, Sandy Amoros

Dodgers Home Plate 6 SOLD
Roy Campanella, Don Newcombe

Dodgers Home Plate 7 SOLD
Red Barber, Vin Scully
Dodgers Home Plate 8 SOLD
Don Drysdale, Sandy Koufax
Orioles Home Plate SOLD
Brooks Robinson, Cal Ripken, Jr.
Contact Me to request any player or players you want on a hand painted home plate.


Return From Home Plates To My Home Page
Copyright 2018 www.famousbaseballplayers.net

All Rights Reserved.