Order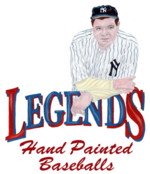 I want to keep the order process as easy as possible for both of us.
Simply fill out the form below and briefly tell me which player or players you want on your baseball (bat, home plate, etc.). I'll email you back to discuss the details.
You don't pay anything until your item is finished.
When it's completed, I'll email you along with pictures of the ball.
Thank you for your order.
Steve Ramer

Copyright 2016 www.famousbaseballplayers.net

All Rights Reserved.