You are receiving this update because you subscribed to my Free, Great American Baseballs News Letter.
As a subscriber, you will be among the first to be notified whenever I add new hand painted baseballs or any other items to my website.
It's been awhile since my last newsletter so I thought I'd catch you up on what's going on here at Famous Baseball Players.net.
Forgive me if you got this newsletter twice. My mistake.
The first new thing is that I changed the name. It's now Legends Hand Painted Baseballs.
The reason I changed the name is because it better describes what I do. I paint Legends on baseballs.
Here's the new logo:
I'd also like to show you my just finished Derek Jeter bat I painted for a customer: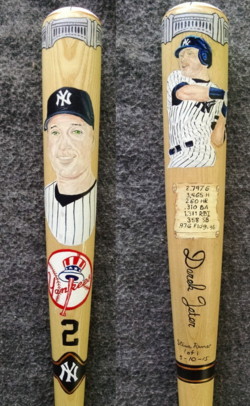 .
I love painting baseball bats but they present some interesting challenges. For example, the surface of the bat is not only round, but it's tapered.
Check out my Braves Hall Of Fame Pitchers Hand Painted Baseball.
Most of my hand painted baseballs are custom ordered but I do have some Available.
I invite you to take a look at my new line of Jersey Baseballs.
I'm still playing baseball in the Men's Senior League. Love it!
Thanks again for subscribing to my newsletter. And thanks again to all of you who have purchased my hand painted baseballs and bats.
Talk to you again soon.
Steve Ramer
"You don't quit baseball cause you get old, you get old cause you quit baseball..
www.famousbaseballplayers.net steve@famousbaseballplayers.net