Clemente Grandslam

It was July 25, 1956. The place was Forbes Field in Pittsburgh and baseball history was about to be made.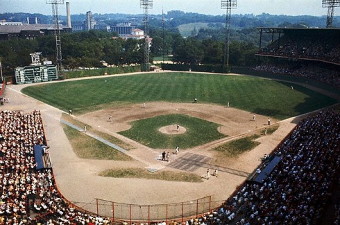 The Chicago Cubs were playing the Pittsburgh Pirates on a hot, sunny day.
In the bottom of the ninth inning, the Cubs were ahead 8 to 5. Right hander Jim Brosnan was on the mound for the Cubs.
With the bases loaded and nobody out, Roberto Clemente stepped to the plate. Roberto took his stance deep in the box and far from the plate as usual.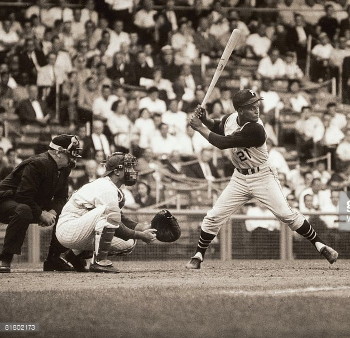 Brosnan's first pitch was a high, inside fast ball. Clemente lunged and ripped the ball to deep left field. The Cubs left fielder Jim King went back on the ball but it was over his head. The ball smacked off of the light pole which was actually in play, 365 feet away.
King scrambled to retrieve the baseball as it rolled along the warning track, Hank Foiles, Bill Virdon and Dick Cole scored easily to tie the score.
The Pirates manager, Bobby Bragan was coaching third base as Clemente rounded second base and headed for third.
Bragan raised his hands to hold Clemente at third because the score was now tied and Clemente would be at third with no outs.
But Roberto rounded third and never slowed up.
The outfield throw came to Cub's short stop Ernie Banks who fired it home. Clemente slid but missed home plate. He reached back around the catcher's tag and tug the plate and was called safe!
The Bucs won the ball game. This is still the one and only, inside the park, walk off grand slam in all of baseball history.
After the game manager Bobby Bragan was asked if he would fine Roberto for running through the stop sign. The standard fine back in 1956 for this offense was $25.00. He said no.
The Pirates finished in seventh place in 1956. But in Roberto Clemente's second big league season he batted .311. Four years later the Pirates would beat the mighty New York Yankees in the 1960 World Series.
But for this one moment in baseball time. Roberto Clemente would show the Pittsburgh fans what was to come.
Copyright 2016 www.famousbaseballplayers.net

All Rights Reserved.