Died Too Young

By players that died young, I mean relatively young. Let's say, under 60 years old. By today's standards, 60 isn't that old. Some of these guys passed away while they were still active players.
So let's take a look at some of our heroes and legends that left us too soon.
Babe Ruth:
George Herman Ruth completely changed the game of baseball. He made the home run something to achieve. The Bambino was a seven time World Series Champion. He was the first player to hit 200, 300, 400, 500, 600 and 700 home runs.
In 1919, Babe hit 29 round trippers to become the all time single season leader. The following season he broke that mark with 54 home runs and the very next year he broke that record with 59. In 1927 he broke it one more time with 60 dingers.
Babe Ruth still holds the record for most home runs in a decade. He slammed 467 in the 1920's.
In 1946, Babe began to experience severe pain over his left eye. What was thought to be a sinus infection turned out to be a malignant tumor around an artery in his neck. Doctors operated but could not remove the entire tumor.
Babe Ruth died in his sleep on August 15, 1948. He was 53 years old.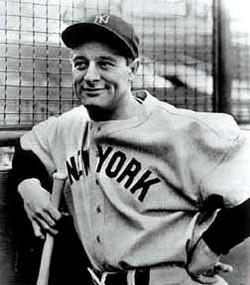 Lou Gehrig:
Henry Louis Gehrig played 17 seasons for the New York Yankees. His lifetime batting average was .340.The Iron Horse slammed 493 home runs and drove in 1,995 runs.
Lou was a two time American League Most Valuable Player and won the triple crown in 1936. He played in 2,130 consecutive games.
By 1938, Gehrig's production on the field began to decline. When April ended in 1939, Lou had one run batted in and was hitting .143.
Finally on May 2, he told Yankees manager Joe McCarthy that he was benching himself for the good of the team. The consecutive game streak was over.
On June 19, 1939, Lou checked into the Mayo Clinic in Rochester, Minnesota. After a long series of tests it was determined that he was suffering from amyotrophic lateral sclerosis. This meant rapidly increasing paralysis, trouble swallowing and a life expectancy of three years.
During his famous speech at Yankee Stadium in 1939, Lou's famous number 4 became the first number to be retired by a Major League club. He was elected to the Baseball Hall Of Fame in 1939 becoming the first player inducted without the five year waiting period.
Lou Gehrig died at his home on June 2, 1941. He was 37 years old. Exactly 16 years to the day after replacing Wally Pipp at first base for the Yankees.
Roberto Clemente
Roberto Clemente had been spotted by a Brooklyn Dodger scout who signed the young Clemente in 1954. Because the Dodgers did not put Clemente on the Major League roster, he was eligible to be drafted away from them. The Pittsburgh Pirates finished in last place that season and had the first draft pick. Pirates general manager Branch Rickey declared, "He's better than anyone we have. We finished last and we are going to draft him first".
So Roberto became a Pirate. During his 18 year career, Clemente played in more games, went to bat more often, drove in more runs, and hit for more total bases than any other Pirate.
Roberto was a four time batting champion and won the National League's Most Valuable Player Awrad in 1966. He finished with a .318 average and exactly 3,000 hits.
On Saturday, December 23, 1972, a devistating earth quake hit Manaqua, Nicaragua. Clemente headed a huge relief effort in Puerto Rico. Then he learned that the first three flights containing supplies for vivtims of the quake had been taken over by the corrupt Somosa government in Nicaragua. He decided to accompany the fourth flight to make sure the supplies got into the right hands.
On December 31, 1972, The Great One boarded the Douglas DC-7 airplane. The plane had a history of mechanical problems and take off was delayed several times. The aircraft was also overloaded by 4,200 pounds. Moments after take off, the plane banked left and crashed into the ocean off the coast of Isla Verde, Puerto Rico. Roberto was gone. He was 38 years old. The search efforts found an empty brief case believed to be Clemente's but his body was never recovered. Roberto Clemente was inducted into The Baseball Hall Of Fame in 1973. He became the first Puerto Rican inducted. Monet Irvin, Roberto's childhood hero, was also inducted that. day. Clemente joined Lou Gehrig as only the second inductee to have the five year waiting period waived.
Mel Ott:
Mel Ott played for the New York Giants for 22 seasons. He was known for his unorthadox batting style where he lifted his fron leg high before swinging.
Ott blasted 511 home runs and batted .304 to go with his 1,860 runs batted in.
Mel also managed the Giants from 1942 until midway through the 1948 season
In 1958, Ott was involved in a head on car crash. He died one week later. The other person involved in the crash was a man named Leslie Curry who also died. Curry's widow filed a civil lawsuit against Ott's estate, claiming Mel had been drinking. But Ott was cleared of those charges. Mel Ott was 49 years old.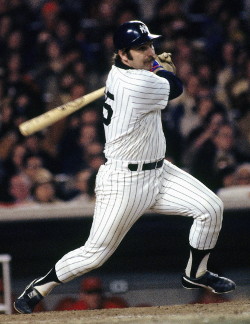 Thurman Munson:
Thurman Munson is the only New York Yankee to win both the Rookie of the Year Award (1970) and the American League's Most Valuable Player Award (1976).
In 1976 Thurman was named the first Yankee captain since Lou Gehrig. He played only ten Major League seasons and was an All Star seven of those seasons.
Munson had purchased a Cessna jet so he could fly home to Ohio on off days. On August 2, 1979, he was practicing take offs and landings. Two close friends were in the pane with him. On the fourth landing the jet came in too low and caught the top of a tree causing it to crash short of the runway. It burst into flames. Thurman's two friends escaped with minor burns, but Munson suffered a broken neck. He died of asphyxiation due to the inhalation of super heated air and toxic gases. Thurman Munson was 32 years old.
Jackie Robinson:
Jackie Robinson broke Major League baseball's color barrier in 1947. He was the first player to be named Rookie Of The Year. He won the batting title and the Most Valuable Player Award in 1949 and led the Brooklyn Dodgers to a World Series win in 1955. He retired after the 1956 season.
Jackie's oldest son, Jackie, Jr., had been struggling for years with drug addiction. On June 17, 1971, Robinson's son was killed in a car accident. He was 24.
By 1972, heart disease and diabetes had weakened Jackie and he was nearly blind. Robinson made an appearance at the 1972 World Series. Nine days later, Jackie Robinson died at his home from a heart attack. Jackie was 53 years old.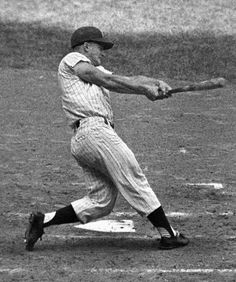 Roger Maris:
Roger Maris became a New York Yankee in 1960 after a multi player trade with the Kansas City Athletics. His first season with the Yankees, Maris hit 39 home runs. He led the American League in slugging percentage, runs batted in and extra base hits. Roger was named the American League's Most Valuable Player Award.
But he wasn't done. In 1961, Maris and team mate Mickey Mantle were battling to reach Babe Ruth's record of sixty home runs in a season set in 1927. Maris ended the season with sixty one home runs and again won the MVP Award.
In 1967, Maris was traded to the St. Louis Cardinals were he played his final two seasons. Roger was diagnosed with Hodgkins Lymphoma in 1983. He passed away on December 14, 1985. Roger Maris was 51 years old.
Lyman Bostock:
Lyman Bostock only played four Major League seasons. After three years with the Minnesota Twins, Bostock signed a big time contract with the California Angels. After a dismal start with the Angels, Lyman donated his April salary to charity saying that he hadn't earned it.
After a day game in 1978, Bostock went to visit his uncle. The two men then drove to the house of Joan Hawkins, a woman whom Bostock knew but had not seen for years. The men agreed to give Hawkins and her sister, Barbara Smith, a ride to their cousin's house. Bostock was in the back seat with Barbara Smith. As their car stopped at a red light, Barbara Hawkins' estranged husband, Leonard Smith, pulled up next to them. Thinking that his wife was having an affair with Bostock, Smith pointed a shot gun at the back seat and fired, hitting Bostock in the temple. He died two hours later. Lyman Bostock was 27 years old.
Leonard Smith was charged with murder. To everyone's dismay, he was found not guilty by reason of insanity and was committed for psychiatric treatment. After only seven months, Smith was declared sane and was released. Including his jail time, Leonard Smith served only 21 months for murdering Bostock.
Tony Conigliaro:
"Tony C" burst onto the Major League scene in 1964 with the Boston Red Sox. In his rookie season, Conigliaro batted .290 with 24 home runs.
Single, good looking and out going, Tony became wildly popular with Red Sox fans, especially the girls.
In 1965, his second season, he hit 32 home runs to lead the American League, making him the youngest player ever to do so in the American League. He also became the youngest player in the league to reach 100 home runs.
On August 18, 1967, the Red Sox were playing the California Angels at Fenway Park. The Angels Jack Hamilton threw one up and in and the fast ball hit Conigliaro in his left eye, fracturing his cheek bone, breaking his jaw and causing severe damage to his retina. Tony was carried from the field on a stretcher.
Tony returned to the Red Sox a year and a half later. He hit 20 home runs and drove in 82 runs in 141 games earning him Come Back Player Of The Year.
Tony played briefly for the Angels in 1971 and returned to the Red Sox for 21 games in 1975, but was forced to retire because his vision had been badly damaged by the beaning in 1967.
On January 3, 1982, Conigliaro suffered a heart attack and shortly after, a stroke. He remained in a coma until his death eight years later. Tony Conigliaro died on February 24, 1990. He was 45 years old.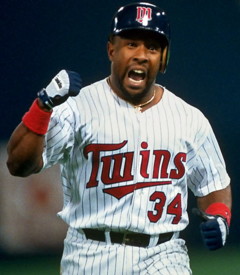 Kirby Puckett:
Kirby Puckett played twelve seasons for the Minnesota Twins. The ten time All Star also won the American League batting title with a .339 average in 1989. Kirby was the Most Valuable Player of the 1991 ALCS and the 1993 All Star Game. His heroics in the 1991 World Series helped the Twins beat the Atlanta Braves.
In 1996, Puckett lost the vision in his right eye due to glaucoma. He was forced to retire from baseball at the age of 36 and was inducted into Baseball's Hall Of Fame in 2001.
Kirby suffered a massive hemorrhagic stroke on March 5, 2006. Surgery failed and Kirby Puckett passed away on March 6. He was 45 years old.
Puckett died at the second youngest age (behind Lou Gehrig) of any Hall of Famer inducted while living, and the youngest to die after being inducted in the modern era of the five season waiting period.
Tony Gwynn:
This eight time batting champion played twenty seasons for the San Diego Padres. Tony was a fifteen time All Star and the recipient of the Branch Rickey Award, The Lou Gehrig Award and The Roberto Clemente Award and finished his career with a .338 batting average. Tony Gwynn was inducted into the Hall Of Fame in 2007 with 97.6% of the vote.
In 1997, Gwynn underwent surgeries to remove non cancerous growths from his parotid gland. Then in 2010, he was diagnosed with cancer of a salivary gland. Following surgery, Tony's face was partially paralyzed.
Tony Gwynn died on June 16, 2012 from complications due to cancer. He was 54 years old.
Alfredo Edmead: In 1974, I was playing Minor League Baseball for the Philadelphia Phillies in Pulaski, Virginia. We received word of this tragedy after a night game and read about it in the news paper the next day.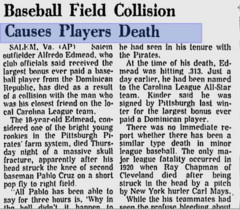 Eighteen year old Dominican Alfredo Edmead was playing right field for the Winston-Salem Pirates who were playing our Phillies Rocky Mount club on August 22, 1974.
Phillies pitcher Murray Gage-Cole was batting and hit a routine fly ball to short right field. Pirates' second baseman Pablo Cruz drifted back for the ball while Edmead charged in. Neither player called for the ball. Edmead collided with Cruz, striking his head on Cruz's knee. He was knocked unconscious. He died an hour later from massive brain injuries at age 18. Ironically, Edmead had been signed to his first pro contract by the 27 year-old Cruz, who was a sometime scout for the Pirates.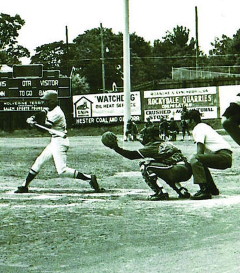 Here are a few more players that left us too soon:
Nick Adenhart; Killed in an automobile accident, April 9, 2009. 22 years old.
Ray Chapman; The only player to die from an injury sustained in a Major League game. Skull fracture after being hit by a pitch. Died on August 17, 1920. He was 29.
Ed Delahanty; This Hall Of Famer died after falling off a bridge at Niagra Falls, July 9, 1903. He was 35 years old.
Addie Joss; This Hall Of Famer died suddenly of tubercular meningitis on April 14, 1911. He was 31.
Darryl Kile; Passed away suddenly from coronary atherosclerosis on June 22, 2002. He was 33.
Cory Lidle; Died in in a small plane crash in New York on October 11, 2006. He was 34.
Bob Moose; Pirates pitcher killed in a car crash on his 29th birthday, October 9, 1976.
Steve Olin and Tim Crews; Indians pitchers killed in a boating accident. Olin was 27 and Crews was 31.
Chico Ruiz; Killed in an automobile accident February 9, 1972. Ruiz was 33 years old.
Don Wilson; Died in his garage of carbon monoxide poisoning on June 5, 1975. He was 29. Wilson's five year old son who was in an upstairs bedroom also died.
Take A Look At My Hand Painted Bats!
Return From Died Too Young To Baseball Articles
Copyright 2018 www.famousbaseballplayers.net

All Rights Reserved.