Hitting .400 seems to be one those marks that may never be seen again. Most likely, Hugh Duffy's .440 batting average in 1894 is safe for now.
Major League batters have hit .400 or better thirty five times in MLB history. Twenty eight different players have accomplished it. And all of them except Shoeless Joe Jackson is in the Hall of Fame.
Of those hitters, Ty Cobb, Ed Delahanty and Rogers Hornsby hit .400 or better three times.
We all know that Ted Williams was the last player to hit .400. He batted .406 in 1941.
Ted didn't just hit .406 that season. He also smacked 37 home runs and drove in 120 runs. The most amazing thing is that he only struck out 27 times, but walked 147 times! And on top of all of that, he was only 22 years old.
A few players have come close or at least "flirted" with .400 since 1941. In 1994, the Padres Tony Gwynn was hitting .394 when a baseball strike ended the season. In 1980, Royal's third baseman George Brett was still over .400 on September 19. He ended the season with a .390 average, a modern day record for third baseman, but still not .400.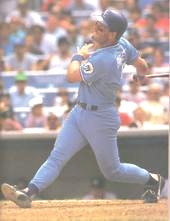 Several batters from the early days of baseball have come close, but with the exception of Brett and Gwynn, none lately.
The only man to hit .400 over a 162 game span was Wade Boggs. During his last 110 games of 1985 and his first 52 games of 1986, Boggs batted .401. But that really doesn't count.
So why is it that nobody can hit .400 anymore. Well, I have some definite opinions on this subject.
First, let me say that I don't believe for one minute that hitters from "way back when" were any better than our modern day hitters. If you could take George Brett, Pete Rose or Ichiro Suzuki and put them back in 1910, I'll bet they would stand a good chance of hitting .400. On the other hand, if Ty Cobb, Rogers Hornsby and Nap Lajoie were to magically appear today, I doubt they would hit .400.
I don't think it's a matter of "yesterday's" hitters being better than today's hitters. I think the game has changed so much, that it makes it nearly impossible to hit .400.
In the 1910s, pitcher Chief Bender was the first to start throwing a slider. Twenty four times a player hit .400 or better for the season before that. It was around the same time that Christy Matthewson developed his "fade away" pitch. They call it a screw ball now. These are two pretty effective weapons pitchers now had that hitters didn't have to contend with before. Imagine what batters would hit today if they never saw a slider?
Pitching itself has changed. In Ted Williams' book, Science of Hitting
, he talks a lot about learning from each at bat. By the time you face a pitcher for the third or fourth time in a game, you should have a good idea of what he is going to throw. But how many times in today's game does a hitter face the same pitcher three or four times in one game. As soon as that one hundred pitch count is reached, they trot out a fresh one.
Also, back "in the day", if you got ahead of the pitcher in the count, you could really sit on a fastball. Not anymore. Now pitchers will throw just about anything in any count.
Let's talk about the playing fields. How many bad hop hits do you think Ty Cobb got back in 1910? Let's compare that with George Brett's 1980 season at Kauffman Stadium in Kansas City. How many grounders jumped over a fielder's glove on the artificial turf for Brett that season. Probably none.
Speaking of gloves, did you ever see what they called a glove back then. It looked more like a leather pillow with a few strings for a web. Compare them with the gloves players use now.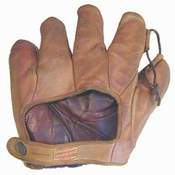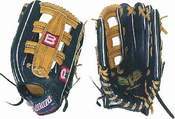 Major League Baseball records are of course made to be broken. I suppose someday a player will again hit .400. Nobody ever thought Lou Gehrig's consecutive game streak would fall, but it did.
Maybe the Twins Joe Mauer will do it this season. We'll be watching.