Recently a friend of mine asked me to paint a baseball of his son when he was playing little league baseball. Here are the two reference photos of Zach that his dad gave me to work with.
Zach played for the "Upper Perkiomen Chiefs", so we incorporated that into the ball too. Below is the completed hand painted baseball.
A certificate of authenticity comes with your baseball so that you know it's an original Great American Baseball.
 Side one is my close up painting of Zach about to gun down a base stealer.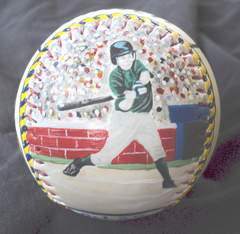 Side two has my painting of Zach taking one deep.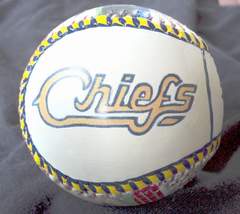 Side three has my painting of Zach's team name.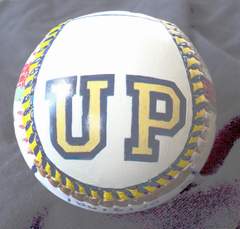 Side four is my painting of Zach's team logo.
 Side five, which is the top of the baseball, has Zach's hand painted name.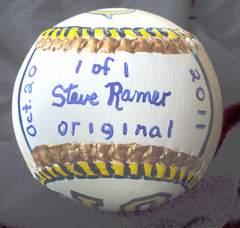 Side six, which is the bottom of the baseball, has my signature along with the date that this Legends Hand Painted Baseball was completed and trimmed with gold. Also you will see "1 of 1". This means that this is number one of only one created. This is a one of a kind piece of art. There will never be another exactly like it.
If this is something you think your son or daughter would love, contact me and we can get started.
I can paint action shots, like I did for Zach, or a portrait of your kid like I have on my Legends hand Painted Baseballs, or both. Whatever you want.
Hand painted softballs are available for the girls, too.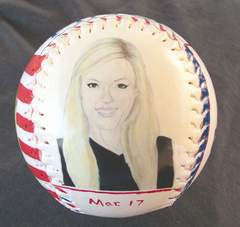 Click on the picture for a closer look.
All I need from you are a couple good, clear reference photos of your kid. You can email them or mail them to me. I'll return them with your baseball.
Each personalized hand painted baseball or softball is only $250.00. Shipping is free within the Continental United States.
Please allow at least 3 weeks for completion. If you have this in mind for a Christmas gift for your son or daughter, please don't wait until the "last minute" to order.
I can't think of a better gift for your kid.