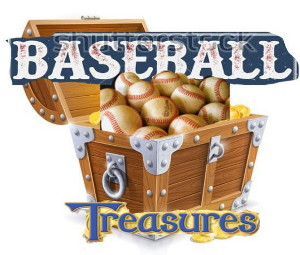 A few weeks ago I received an email from a company who was interested in printing my baseballs. I have been painting my
Legends Hand Painted Baseballs
for many years. After consideration, I decided to go ahead and offer these printed versions of my baseballs.
Each baseball will feature my original artwork. The entire baseball will be printed. These baseballs will have a nice, glossy finish. They are beautiful!
I will be offering many subjects, not just baseball related. For example, I plan to have a Father's Day and Mother's Day Baseball. Patriotic baseballs, Pet Memorial baseballs. Other subjects will include Christmas, Graduation, Valentines Day, Weddings, Team Mom, Coach, Fishing, Hunting and many more subjects.
And some can be personalized. Choose a Father's Day, Pet Memorial, Coaches ball, etc. and pick the name or team name yourself. Dates can also be chosen.
There will be some baseball related Baseball Treasures also.
So the next time you need a gift for almost any occasion, for that special person, or just want to collect them yourself, please consider a Baseball Treasure.
Each baseball is priced at $34.95. Shipping for your baseball will be $6.95 anywhere in the Continental United States. $10.95 for International Shipping. (Including Alaska, Hawaii, Canada and Puerto Rico).
Your Baseball Treasures will be shipped to you directly from the company that prints them. I'm doing this to keep the shipping costs as low as possible.
Samples
America Baseball

Breast Cancer Baseball

Yellow Lab Memorial Baseball
German Shepherd Memorial Baseball

Father's Day Baseball
Copyright 2017 www.famousbaseballplayers.net

All Rights Reserved.