The first thing in the baseball process when creating one of my Legends Hand Painted Baseballs is to plan everything. I have an extensive photo library of famous baseball players to use as reference.
Good reference is key to creating a good likeness of the player.
Once the perfect photo reference is found the pencil drawing begins.
This is by far the most time consuming part of the process. I don't want the drawing to resemble the player, I want it to LOOK like the player. One wrong eye or nose angle and the whole face looks wrong.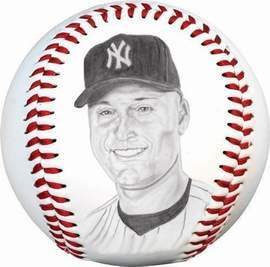 I have tried many different paints but Windsor and Newton watercolors work the best for me.
Once the pencil work is done, the fun begins. Bringing the player's likeness to life with a paint brush.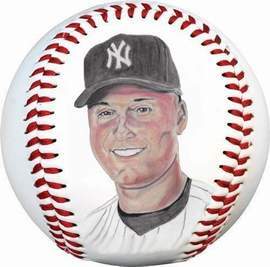 The colors used depend on the complexion of the player. For Derek Jeter's face a combination of white with a small dab of yellow, red and brown were used for the basic color.
For the shadows and darker areas, more red and a little more brown are added. The cool thing about the water colors is that the blend together well. The bad thing is that it takes several "coats".
The next step is to paint Derek's cap.
A mixture of dark blue and black were used. Although it's hard to see, white highlights were blended in. White was then used for the NY on the cap.
The same dark blue and black mixture was used for Derek's "under-shirt".
Now the only thing left to do is his jersey. White was used first and then a little black added for a darker white to add some shadows to the jersey.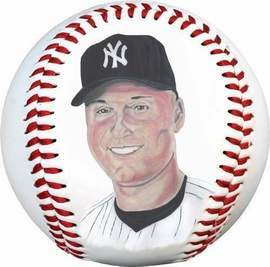 The pinstripes were carefully added with the same dark blue mixture with a very small brush.
For this Derek Jeter baseball, I decided to add a blue sky back ground. Some light blue and white for the clouds were added.
And that's it, for the main panel of the baseball. This entire process usually takes about 10 hours to complete. From here it's on to the rest of the baseball and another 10-12 or so hours of work.


    

Return From Baseball Process To How It's Done