Sample Baseballs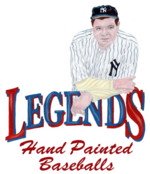 I have painted hundreds of baseballs. Past players, current players, world series baseballs, famous moments baseballs and just about every Major League team.
Most of the baseballs I've painted over the years are listed below in categories.
All of these hand painted baseballs have been sold. I have them all here so that you can see samples of my work.
If you see a hand painted baseball you would like to own, Contact Me and I'll create a similar one for you.
If you are looking for the painted baseballs that are available, please click here.
Order A Custom Hand Painted Baseball. Any player past or present. Just tell me what you want.

500 Home Runs Club
Hall Of Fame Managers Baseball

Teams

MVP Baseballs
Cy Young Baseballs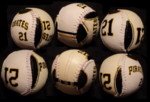 Jersey Baseballs

Multiple MVP Baseballs

Hall Of Fame
World Series Collection
Famous Moments
3000 Hits Club

RBI Leaders

Perfect Game Baseballs

Turkey Red Baseballs

All Century Team

1955 Brooklyn Dodgers

Triple Crown Winners

Multiple Cy Young Awards

Father/Son Baseballs

More 3000 Hits Club Baseballs

500 Home Runs Baseballs

More Hall Of Fame Baseballs
White Sox Gold Glove Winners

Presidents Baseballs

Disney Baseball
Copyright 2015 www.famousbaseballplayers.net

All Rights Reserved.