You pay nothing until your bat is completed.
Check below to see what's available or Contact Me to order the player of your choice.
Shipping is $15.00 Within The Continental U.S.
You won't find hand painted bats like this anywhere else.
30-40 hours of work go into each of my hand painted bats.
Each bat is a one of a kind art collectible.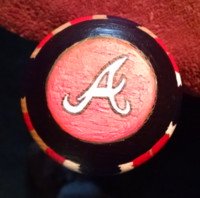 Price includes the player's portrait, flag style bunting (in this example Yankee Stadium facade) around the top of the bat, team logo on the top of the bat, team logo and player's number below portrait, team logo and painted "ring" around bat.
I've started to paint my bats a little differently. Compare the two painted bats below.

Instead of painting the entire background of the bat, I've left the natural wood background. It makes a nice difference.
If you would like to order a custom Legends Hand Painted Baseball Bat, please Contact Me and tell me who you want.
Any player, broadcaster, etc. past or present. Even your kid!
If you see a bat below that has been sold and you would like to order another one, let me know and I'll paint a similar bat for you.
More Hand Painted Bats Coming Soon!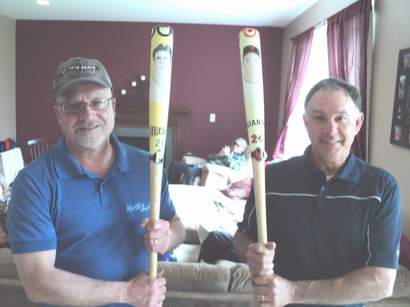 I'm planning to shift my attention from baseballs to bats for a while. The reason is that I haven't seen hand painted baseball bats like mine anywhere else. Plus I enjoy painting them, even though they take a lot of hours to finish.
Below is my recently finished Roberto Clemente bat.


Roberto Clemente Bat SOLD
Chipper Jones Bat AVAILABLE!
All of the painted bats below were painted for customers.
Chuck Daly Bat SOLD

Tony Stewart Bat SOLD
Jimmie Johnson Bat SOLD

Jeff Gordon Bat SOLD

Gordie Howe Bat SOLD

Dale Earnhardt Bat SOLD

Mario Andretti Bat SOLD

Kyle Busch Bat SOLD
Borg Warner Indianapolis 500 Bat SOLD

John Force Bat SOLD

Bo Schembechler Bat SOLD

Richard Petty Bat SOLD

Isaiah Thomas Bat SOLD

Muhammad Ali Bat SOLD

Barry Sanders Bat SOLD

Tom Brady Michigan Bat SOLD

Ernie Harwell Bat SOLD

George Scott Bat SOLD

Greg Luzinski Bat SOLD

Vin Scully Bat SOLD

Derek Jeter Bat 2 SOLD

Lou Gehrig Bat SOLD

Derek Jeter Bat SOLD

Ryan Howard Bat 2 SOLD

Ryan Howard Bat SOLD

Clete Boyer Bat SOLD
Order Your Custom Hand Painted Bat Today!
Copyright 2018 www.famousbaseballplayers.net

All Rights Reserved.