Painted Bats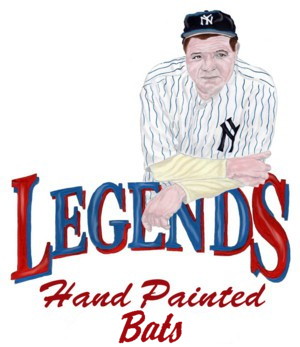 34 inches long, full sized, genuine, Rawlings, wooden baseball bats.
All the painting is done right on the bat.
$450.00 Each (You pay nothing until your bat is completed)
Check below to see what's available or Contact Me to order the player of your choice.
Free shipping anywhere within the Continental United States. (International Shipping is $24.00 per bat. This includes Alaska, Hawaii, Puerto Rico and Canada)
You won't find hand painted bats like this anywhere else.
20-25 hours of work go into each of my hand painted bats.
Each one has the player's portrait, team name, jersey number and club logo on the front.
The back of each bat will have an action painting of the player, some of the player's career statistics, his hand painted name, my signature, and the date the bat was completed.
Also on the back of each bat is "1 of 1". This means that each one is number one in a series of 1. Each bat is a one of a kind piece of art.
I've started to paint my bats a little differently. Compare the two painted bats below.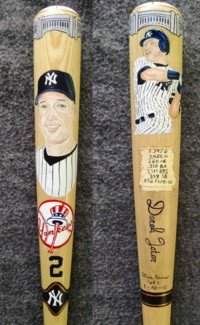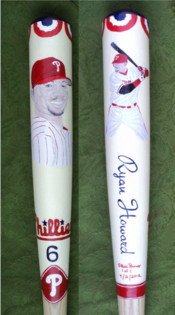 Instead of painting the entire background of the bat, I've left the natural wood background. It makes a nice difference.
If you would like to order a custom Legends Hand Painted Baseball Bat, please Contact Me and tell me who you want.
Any player, broadcaster, etc. past or present. Even your kid!
If you see a bat below that has been sold and you would like to order another one, let me know and I'll paint another one for you.
More Hand Painted Bats Coming Soon!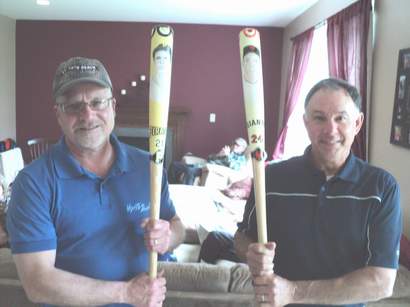 I'm planning to shift my attention from baseballs to bats for a while. The reason is that I haven't seen hand painted baseball bats like mine anywhere else. Plus I enjoy painting them, even though they take a lot of hours to finish.
Below is my just completed Ernie Harwell bat. Next up, I'm working on a Chipper Jones bat that will be available here as soon as it's finished.

Ernie Harwell Bat SOLD

George Scott Bat SOLD

Vin Scully Bat SOLD

Derek Jeter Bat 2 SOLD

Lou Gehrig Bat SOLD

Derek Jeter Bat SOLD

Ryan Howard Bat 2 SOLD

Ryan Howard Bat SOLD

Clete Boyer Bat SOLD
Order Your Custom Hand Painted Bat Today!
Copyright 2018 www.famousbaseballplayers.net

All Rights Reserved.