Home Plates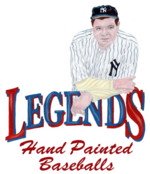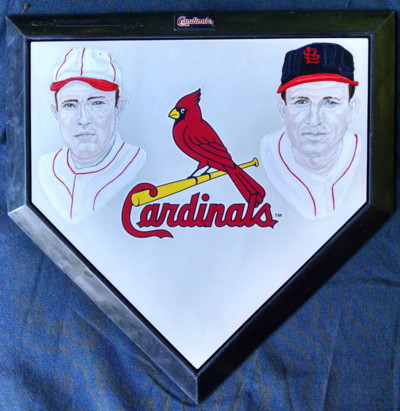 Legends Hand Painted Home Plates.
$245.00 Each.
These home plates are 10 inches wide. They look and feel just like a real home plate!
I start with a "Schutt" home plate which has the team logo on it. Then I add my paintings of the players.
(You pay nothing until your home plate is finished)
Shipping is FREE anywhere within the Continental United States.
(Add $15.00 for International Shipping. This includes Hawaii, Alaska and Puerto Rico)
Like my Legends Hand Painted Baseballs, each hand painted home plate is an original, one of a kind piece of artwork.
On the back of your home plate you'll find my signature along with the date it was completed and the series number which will always be 1 of 1.
This shows you that it's one of only one in the series. I'll never paint another one exactly like it.
If you have a request for a hand painted mini home plate, please contact me.
See step by step how I create your painted home plate.
If you see a home plate that has been sold and your are interested in it, I can paint another one for you.

Cardinals Home Plate AVAILABLE
Rogers Hornsby and Stan Musial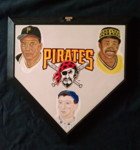 Pirates Home Plate AVAILABLE
Roberto Clemente, Willie Stargell, Honus Wagner

Dodgers Home Plate 1 SOLD
Jackie Robinson, Pee Wee Reese
Dodgers Home Plate 2 SOLD
Duke Snider

Dodgers Home Plate 3 SOLD
Jackie Robinson

Dodgers Home Plate 4 SOLD
Vin Scully, Red Barber

Dodgers Home Plate 5 SOLD
Johnny Podres, Sandy Amoros

Dodgers Home Plate 6 SOLD
Roy Campanella, Don Newcombe

Dodgers Home Plate 7 SOLD
Red Barber, Vin Scully

Dodgers Home Plate 8 SOLD
Don Drysdale, Sandy Koufax

Orioles Home Plate SOLD
Brooks Robinson, Cal Ripken, Jr.
Contact Me to request any player or players you want on a hand painted home plate.
Order By Mail
Copyright 2018 www.famousbaseballplayers.net

All Rights Reserved.