Frequently Asked Questions
I have tried to answer some frequently asked questions about my Legends hand painted baseballs. If you have any questions that I have not answered, please email me. I'll be happy to answer any questions you have.
1. What is the difference between the Baseball Treasures Baseballs and the Hand Painted Baseballs?
My Hand Painted Baseballs, footballs, etc. are original, one of a kind items. All the painting is done right on the ball. As for my Baseball Treasures, I do all the artwork for one baseball. Then that baseball is reproduced. My Baseball Treasures are Not one of a kind. However, by having them reproduced, I am able to offer them at a much lower price than my Hand Painted, one of a kind baseballs which take many hours to complete.
2. Are each one of your hand painted baseballs different?
Yes. Each Legends Hand Painted Baseball is created individually. That means that they are not mass produced. For example, if I create more than one Roberto Clemente baseball, they will have a different close up or action painting Roberto. Maybe different color combinations or stats, etc.
3. Can I request a certain player for a painted baseball?
Yes. I can create a Baseball with any player. Past or present.
4. Can I get someone other than a a Major Leaguer on a painted baseball?
Yes. Maybe you would like a hand painted baseball of your son or daughter or even yourself. Maybe your favorite broadcaster. Anyone as long as you provide me with good reference photos.
5. If I see one of your painted baseballs on your website that I'd like but it has been sold, can I get one exactly like it?
Not exactly like it. Since each painted baseball unique and different, I will not create duplicates. But you can have the same paintings on the baseball if you like. But something will be different. Backgrounds and color combinations for example.
6. If I commission a painted baseball, how long will it take until it's finished?
Right now I have a lead time of approximately four weeks. If you are commissioning a painted baseball for a special occasion (Christmas, birthday, Father's Day, etc.), let me know well ahead of time. Please don't wait until the "last minute".
7. What forms of payment do you accept?
I currently am accepting money orders or you personal check (Payable to me, Steve Ramer). Your check will have to "clear" before delivery of your baseball. I can also accept your credit card through Pay Pal. You do not have to have a Pay Pal account to use your credit card.
8. How do I order one of your painted baseballs or commission a special one?
All you have to do is contact me via email and tell me what you would like. I will quote you the price and an estimated time of completion.
9. Can I order one of your baseballs and also commission one at the same time?
Yes. If the one you order has not been sold, you can have it shipped immediately. The commissioned baseball will take longer.
10. If I order a painted baseball as a gift, can you ship it directly to my recipient?
Absolutely. If that person lives within the continental United States, the shipping is free. International shipping rates apply.
11. Can I safely handle my painted baseball?
Yes. They are safe to touch. But I suggest you purchase a baseball display case and keep your painted baseball safely inside.
12. What type of baseball display holder do you recommend?
My Single Baseball Display Cube is perfect to protect your hand painted baseball. Please avoid the round display case because the paint on the baseball could possibly stick to the display case.
      This One                   Not This One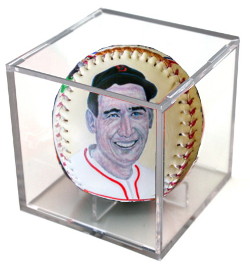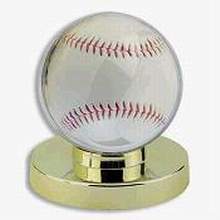 If you have any other questions that I have not answered, please feel free to email me any time with your question.

Return from FAQ to my Home Page