Best Switch Hitter

There have been some pretty darn good switch hitters over the decades. Let's take a look at some of them and their accomplishments.
The two that come to mind immediately are Pete Rose and Mickey Mantle. But are either one of them the best switch hitter ever?
Pete Rose, of course, has the most lifetime hits, 4,256. Pete hit over .300 fifteen times and finished with a .303 average. He drove in 1,314 runs and scored 2,165 times.
Rose was the 1963 Rookie Of The Year and won three batting titles. He was also the 1973 National League's Most Valuable Player.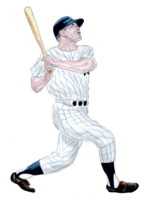 Mickey Mantle is possibly the most famous of all switch hitters. Mickey hit 536 home runs. That's the most by a switch hitter. 372 left handed and 164 right handed. That includes nine grand slams.
Mantle played in twelve World Series' and hit eighteen home runs and drove in forty runs. He is still first in both. The Commerce Comet knocked in 1,509 runs in his eighteen year career and batted .298. His slugging average was .557.
Frankie Frisch played nineteen seasons with the Giants and Cardinals. He ended with 2,880 hits and a .316 batting average.
One of the most overlooked switch hitters is catcher Ted Simmons. "Simba" played twenty one seasons, batted .285 and drove in 1,389 runs. He slammed 248 home runs. Ted had a higher batting average and drove in more runs than both Johnny Bench and Carlton Fisk.