Chase Utley started off with a bang for the Philadelphia Phillies in 2003. In his very first major league at bat, he hit a grand slam home run.
After being sent back down to triple A in Scranton/Wilkes Barre, for some more "at bats", Chase rejoined the Phillies in August. Phillies' third baseman, David Bell, was placed on the disabled list and second baseman Placido Palanco was moved to third, opening a spot for Utley at second base.
During the 2004 season, Chase Utley saw more action than in 2003, but Palanco was still the Phil's second baseman. Chase filled in at first occasionally and was the DH for some inter-league games.
By 2005, Chase was platooning at second with Palanco. Then in June, the Phillies made the move. They traded Palanco to the Tigers, making Utley the every day second baseman. By the end of 2005, he played in 147 games, hitting .291 with 28 homers and 105 runs batted in.
In 2006, Chase batted .309 with32 homers and 102 RBI. He also led the National League with 131 runs scored.
He hit more than one home run in a game seven times and won his first Silver Slugger Award. That summer, Chase Utley was selected by the fans to be the National League's starting second baseman at the All Star game in Pittsburgh.
In the winter of 2007, Chase signed a seven year contract extension with the Phillies for a reported $85 million. He was voted to start in the All Star game again.
Then during a game against the Washington Nationals, pitcher John Lannan hit Utley with a pitch. The result was a broken metacarpal bone in his right hand. Chase returned on August 27 and hit a home run and a double.
By the season's end he had hit .332 with 22 home runs and 103 RBIs. The Phillies went on to win the National League Eastern Division for the first time in fourteen years.
In 2008, Chase led the Phillies to their first National League Championship title since 1993 and their first World Series victory since 1980. He finished the year batting .292 with 33 homers and 104 runs batted in.
In 2009 a panel of 100 baseball people, including many Hall of Famers, placed Chase Utley number six on their list of the 50 greatest current players in baseball. Again the Phillies won the National League Eastern Division and went on to the World Series, losing the New York Yankees.
During the series Chase hit five home runs to tie Reggie Jackson for the most home runs in a World Series. Two of those homers came in one game off of C.C. Sabathia. This made Chase the second left handed hitter to hit two home runs in a World Series game against a left handed pitcher. The other was Babe Ruth.
Chase and his wife Jenn are deeply involved in the fight against animal cruelty. Their organization, Utley All Star Animals raises money to help abused animals.
They work closely with the PSPCA (Pennsylvania Society For The Prevention Of Cruelty To Animals).
Chase is also involved in Philadelphia Futures. An organization that mentors inner city high school students.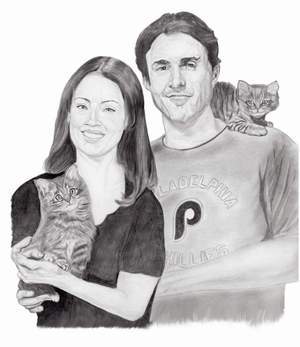 My wife Robin and I had the chance to meet Chase Utley at the 2009 Richie Ashburn Foundation Dinner. I presented Chase with a pencil portrait I did for him and his wife Jenn. It was a thrill for us to shake his hand and see his reaction to the portrait.


Return From Chase Utley To Baseball Articles