Christmas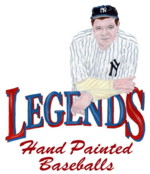 Christmas is coming fast. If you are looking for that special gift for the baseball fan that has everything, please consider one of my hand painted baseballs.
But don't wait. Now is the time to order.
Every year someone asks me to paint a baseball for a Christmas gift but they wait until two weeks before Christmas. That's too late.
If there is something you want for Christmas, a painted baseball, bat, home plate, mini batting helmet, painted football, etc., please contact me now.
I can re-create any baseball on my website for you or tell me the player you want and I'll get it done in time for Christmas. But please don't wait too long. Thanks, Steve
Copyright 2018 www.famousbaseballplayers.net

All Rights Reserved.