Dallas Green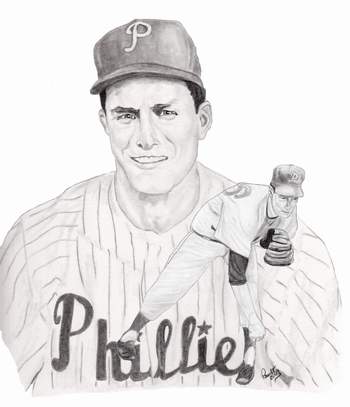 Recently a gunman opened fire at a super market in Tuscon, Arizona. Nineteen people were hit, six died. Among them was nine year old Christina-Taylor Green. Grand daughter of former Philadelphia Phillies manager Dallas Green.
This is not an article about the tragedy or the gunman or even little Christina. It's about the Dallas Green I remember.
In 1974, I had the priviledge of signing with the Phillies. In 1975, I got to spend spring training in the Phillies minor league camp at Clearwater, Florida. That's where I met Dallas Green.
George Dallas Green pitched in the Major Leagues for eight seasons. From 1960 through 1967. The right hander played for the Phillies, the Washington Senators and the New York Mets. But I remember him as a Phillie.
After his playing career, Green became assistant Farm Director for the Phillies from 1970 until 1972. He was director of player developement in 1973 and 1974 and Scouting Director from 1975 through 1979.
We all know that in 1979 Dallas became the manager of the Phillies and led them to their first World Championship in 1980.
From 1982 through 1987 he was the General Manager of the Chicago Cubs. He managed the New York Yankees in 1989 and the New York Mets from 1993 through 1996.
But as I said. He's always been a Phillie in my heart.
I remember the first time I saw Dallas Green that spring of 1975. He was, and is, a big man with a booming voice. He had a reputation as a savvy baseball man who wanted things done his way. I had heard that he was a gruff and tough SOB and to tell you the truth, I was a little scared of him, at first.
One day after our workout, I was walking through the crowded minor league locker room. Now, I was eighteen years old and I have to admit, maybe just a tad home sick. I looked up and saw Mr. Green coming toward me. I decided to say hello, even though I doubted he knew who I was or much about me.
Before I could say a word, he walked right up to me with a big smile on his face and said, "Hi Steve, how's it going?"
I was somewhat shocked. I told him it was going good and he told me to, "keep swinging". Then he slapped me on the shoulder and walked away. Wow, Dallas Green knew my name!
You hear from time to time about how baseball clubs are like family. I suppose some are and some aren't. But back in 1975, Dallas Geen and the Phillies treated us like family. They went out of their way to make sure we had the best of everything. The best equipment, uniforms, accommodations and even pay.
I recall talking to players from other organizations who were jealous of us because the Phillies treated us so good. And Dallas Green was a huge part of that.
My minor league career came to an end after that 1975 season, but I'll always remember that day when Mr. Green took a few seconds to make my day.
My heart is grieved over the loss the Green family has suffered. I have an eight year old grandson and I can't imagine the pain they must be going through.
Of course our thoughts and prayers are with them but it doesn't seem like that's enough.
I don't "know" Dallas Green, but I can tell you this. He sure knows baseball and he's a good man. Thanks Mr. Green for that day back in 1975.
Steve Ramer

Return From Dallas Green To Baseball Articles
Copyright 2014 www.famousbaseballplayers.net

All Rights Reserved.