Dan Baker has been the public address announcer for the Philadelphia Phillies for fifty years. He is the longest tenured announcer in Major League Baseball. He started with the Phils at Veterans Stadium in 1972. Now, Dan announces every game at Citizens Bank Park.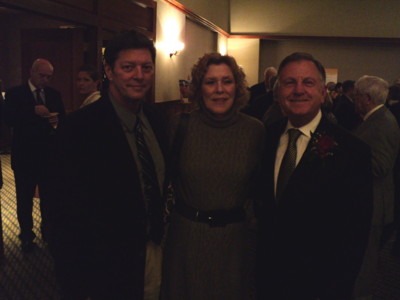 I met Dan Baker over twelve years ago. The Richie Ashburn Foundation was having it's semi-annual fund raising event and they asked me to do some hand painted baseballs for their live auction.
After the event and dinner, my wife Robin and I had the priviledge to meet Dan. We chatted for a few minutes and then he asked if we would like to be his guests at a Phillies game. Of course we accepted.
A month or so later we attended that game compliments of Dan. After the game he invited us up to the "Hall of Fame" club at Citizen's Bank Park. From there he gave us the grand tour of the stadium. I even got to sit in the Phillies dug out!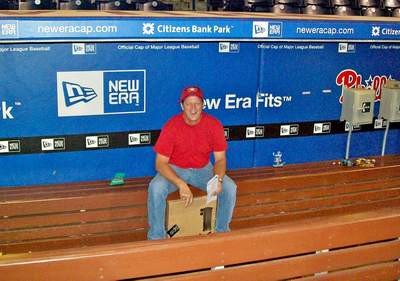 Dan also broadcasts a live radio show from Chickies and Pete's Sports Bar in Philadelphia. His co-host is former Phillies All Star Greg Luzinski. The show is called the "Bull Session".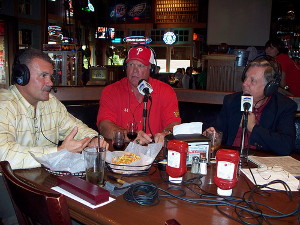 They do the radio show each Monday night during the baseball season when the Phillies are on the road.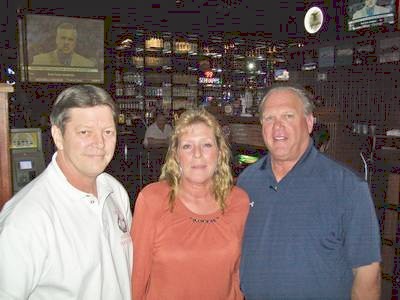 Dan has invited us many times and we have met a lot of great people. But I'm the most proud that now I can call Dan Baker my friend.
Dan Baker has been the Phillies public address announcer since 1972. In 1985, Dan also became the public address announcer for the Philadelphia Eagles. He has announced five World Series for the Phillies (1980, 1983, 1993, 2008, 2009), as well as two Major League All Star games in Philadelphia (1976,1996). He has also done three NFC Championship games for the Eagles.
Dan has been the long time radio voice of the Drexel University Dragons men's basketball team. For twenty one years he also broadcast Philadelphia Big 5 Basketball games. In 1997, Dan was named to the Big 5 Hall of Fame.
Another cool thing Dan does is called "Summer Nights At The Ball Park". During the baseball season, Chickies and Pete's Sports Bar will broadcast Phillies away games on their big screen televisions around the restaurant. Dan re-creates the feel of the ball park by announcing the game exactly like he does at Citizen's Bank Park. He asks trivia questions between innings with prizes for the winners, usually kids, and eveyone present has a great time.
Recently, Rowan University in New Jersey honored Dan Baker for his forty years of Philadelphia broadcasting. Dan is a graduate of Rowan, which was then called Glassboro State College. Dan made sure to invite Robin and me. It was an awesome evening. So many Philadelphia sports writers, broadcasters and personalities attended. It was a well deserved honor for Dan.
As I said, Dan and his wife Kathy have become our friends. He is one of the best people I know. He has done so much for Robin and I, I can't even begin to tell you. And has never asked for anything in return.
Many times at these events, Dan will go out of his way to promote my Legends Hand Painted Baseballs.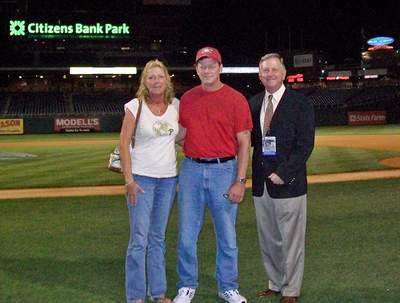 He always make me feel like he is my biggest fan. But that's Dan Baker. A genuinely wonderful human being. Thanks Dan.
Steve Ramer