This Great American Baseball features Dan Baker.
Dan has been the public address announcer for the Philadelphia Phillies for 39 years.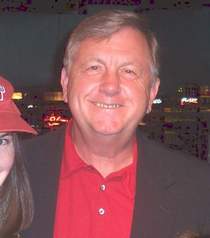 This is the photo that I used as reference.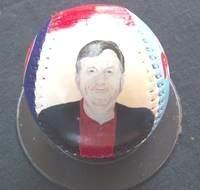 Click on the picture for a larger look.
Side one has my close up painting of Dan.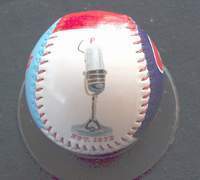 Side two shows my painting of Dan Baker's golden microphone, established in 1972.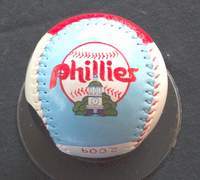 Side three is my hand painted Phillies logo.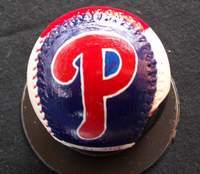 Side four is a painted Phillies "P".
And side five, which is the top of the baseball, has my signature and the date this Great American Baseball was finished. You'll also see "1 of 1" on this side. This means that this is one of only one created. This is a one of a kind, original piece of art work.
Dan got his baseball as a Christmas gift.
If you would like to have a personalized, Great American Baseball for yourself or a friend, please contact me and we can discuss your details.

Return To Personalized Examples