Frank Robinson Art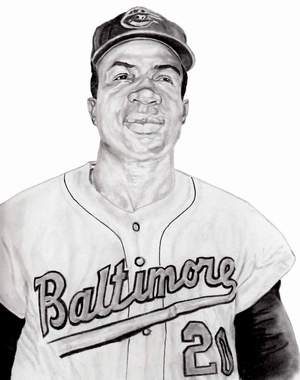 This Drawing Has Been Sold
Frank Robinson played 21 seasons in the Major Leagues. He is still the only player to win the MVP Award in both the National and American Leagues.
His 586 home runs places him seventh on the all time list. Frank is 18th with 1812 runs batted in.
Robinson was the National League's 1951 Rookie of the Year and the 1961 Most Valuable Player with the Cincinnati Reds. He was traded to the Baltimore Orioles where he won the Triple Crown and the MVP with the Orioles in 1966.
Frank was voted the 1966 Major League Player of the Year, the 1966 Babe Ruth Award and he was the 1966 World Series MVP.
Frank Robinson became the Major League's first black manager for the Cleveland Indians in 1975. He won the manager of the year in 1989 and was inducted into Baseball's Hall of Fame in 1982.



Return from Frank Robinson Art to Baseball Art