Honus Wagner was born Johannes Peter Wagner on February 24, 1874, in Chartiers, Pennsylvania.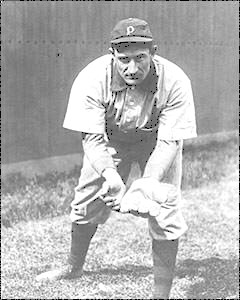 Honus was finished with school by the time he was twelve years old. He quit to help his father work in the coal mines of Pittsburgh. Imagine a kid of twelve today working in a coal mine! He also trained for a while to become a barber.
Of course, in their spare time, Honus and his brothers played baseball. Three of his brothers became professional ball players, too.
In 1896, Honus signed to play with the Atlantic League. This was an amateur/minor league at the time. Honus hit .313 his first year and .375 his second year.
He was then signed by the Louisville Colonels of the National League in 1897. He hit .338 that first season.
Barney Dreyfuss had purchased half ownership of the Pittsburgh Pirates. When the Colonels were eliminated from the National League, Dreyfuss took a few of the players over to the Pirates. Wagner was one of them.
1900 was Honus' first season in Pittsburgh. He won his first of eight batting titles by hitting .381. He also led the league in doubles with 45, triples with 22 and slugging percentage at .573
He was described as bow-legged, barrel chested and long-limbed. In 1905, the Louisville Slugger Bat Company came up with a great idea. They would burn Major League player's names into the barrel of their bats. Honus Wagner's was the first.
Just before the 1908 season, Honus decided to retire. The Pirates baseball club was in a panic. Their star would be gone. Owner Barney Dreyfuss offered Honus a $10,000 a year contract which was a fortune and the largest contract ever, to come back. Honus did come back. In fact he won the batting title that season for the sixth time with a .354 average. He also led in hits, total bases, doubles, triples, runs batted in and stolen bases. He missed winning the Triple Crown by two home runs.
The Pirates played the Boston Americans in the first World Series in mlb history in 1903. Wagner only batted .222 and Boston won the nine game series five games to three. For some time after, Honus was called "Yellow" by the fans and some press people. Yellow at the time meant that he was poor in the clutch.
Honus Wagner redeemed himself in 1909 when the Pirates faced the Detroit Tigers who had Ty Cobb. It was the first time the batting champ from both leagues would be in the World Series. (In 1954, Bobby Avila of the Indians and Willie Mays of the Giants did it too.)
Wagner who was 33 years old, batted .333 with six stolen bases. Cobb at 22 years old only hit .231. The Bucs won the seven game series four games to three.
By 1912, Honus was the oldest player in baseball at 40. He got his 3,000th hit that season.
In 1915 he became the first player to reach 100 home runs for his career. He also became the oldest player to hit a grand slam which stood for 70 years until 43 year old Tony Perez hit one.
Honus Wagner retired in 1917. At the time, he was the all time National League hits leader with 3,430. 45 years later, Stan Musial would surpass that total.
After his playing days, Honus became a coach for the Pirates. He wore number 14 but soon changed it to his famous 33 which the Pirates have retired. He was a coach for 39 seasons.
Honus opened a sporting goods store which still exists today in Pittsburgh.
In 1936 the Baseball Hall of Fame opened and conducted their first vote. Honus was second in the balloting to Babe Ruth.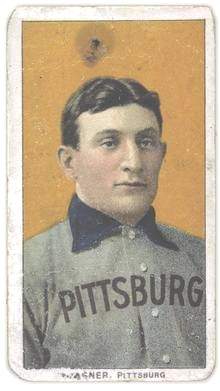 In 1909, the American Tobacco Company issued cards of famous baseball players that they would include with a pack of their cigarettes. Honus refused to allow his to be included.
The story is that he didn't want kids to buy cigarettes to get his card, but some say it was a matter of compensation. The Honus Wagner baseball card is now the most sought after and expensive baseball card.
Honus Wagner retried with a career .327 batting average. He is tied with Tony Gwynn with six batting titles. He finished with 3,415 hits, 4,862 total bases, 1,732 runs batted in and 722 stolen bases.