This Great American Roy Campanella Baseball features two paintings of Campy. A certificate of authenticity comes with your baseball so that you know it's an original Great American Baseball.
This Baseball Has Been Sold
Side one is a close up painting of Roy.
Side two is Roy Campanella's classic, home run swing that won him three National League Most Valuable Player Awards.
Side three shows some of Campanella's stats on a hand painted scroll.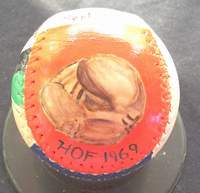 Side four has Campy's old style catcher's mitt along with the year he was inducted into the Baseball Hall Of Fame.
Side five has Roy Campanella's name.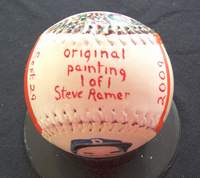 And side six has my signature and the date this Great American Baseball was completed. You'll also see "1 of 1". This means that this is number one of only one created. This is a one of a kind piece of art work. There will never be another exactly like it.