My Single Panel hand painted baseballs are a less expensive alternative. Only one side of the baseball is painted.
$130.00 Each(You pay nothing until your baseball is completed)
Free Shipping anywhere within the Continental United States.
(Add $15.00 for International Shipping. This includes Hawaii, Alaska and Puerto Rico)
Please scroll down to see what's available.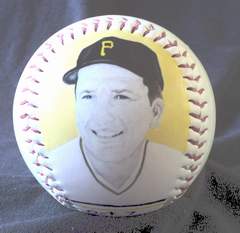 Each baseball has the player's portrait on the front along with a painted background.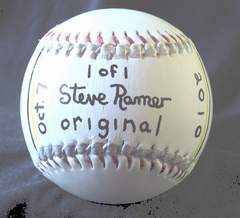 The bottom of each Single Panel baseball has my signature and the date each baseball was completed, trimmed with silver. You will also see "1 of 1". This means that each baseball is a one of a kind piece of art work.
Free Shipping Within The Continental U.S..
I'll be adding this list regularly so check back often.
If you have a request for a Single Panel Baseball please let me know Any player past or present.
Click on each baseball below for a closer look and ordering details.
If you see a baseball below that you want, but has been sold, I can paint a similar one for you. Please allow 3 to 4 weeks for completion.
Order Your Single Panel Baseball
Honus Wagner SOLD
Christy Mathewson SOLD

John McGraw SOLD
Joe Jackson SOLD

Willie Stargell SOLD
Ozzie Smith SOLD

Whitey Ford SOLD

Tom Seaver SOLD

Wade Boggs SOLD
Kirby Puckett SOLD

Roberto Clemente SOLD

Ernie Banks SOLD

Jim Bunning SOLD

Joe Cronin SOLD
Lefty Gomez SOLD

Bob Lemon SOLD

Ralph Kiner SOLD
Goose GossageSOLD
Arky Vaughn SOLD

Reggie Jackson SOLD

Return From Single Panel Baseballs To My Home Page