Voices of baseball. Radio vs television. Which is better? I suppose each one of us has his own preference. Which one would you rather enjoy? A television broadcast of a baseball game or a radio broadcast?
The difference between hearing the voices of baseball on the radio and watching on TV is like "reading the book" instead of "seeing the movie". You build a picture in your mind of what was happening on the field. It seems grander somehow.
In recent years, most Major League Teams have signed enormous television contracts. Some clubs only allow their subscribers to see their games. Oh, they will occasionally throw a game out there as bait, or their team might make one of the Nationally televised games. But for the most part, we are at the mercy of the networks.
On the other hand, we can listen to the voices of baseball every single night.
Those amazing radio broadcasters of the 1930's, like Ty Tyson, Red Barber and Tom Manning who called the 1936 World Series between the Yankees and the New York Giants.
Or John Harrington and Pat Fleming who brought us the 1938 Series.
I'm too, young to remember Ty Tyson's call of Ted Williams winning the 1941 All Star game at Briggs Stadium in Detroit..."the pitch.. Williams hits a towering fly, it's looks as though it's way up in there..way up, way up, hits the top deck and this game is over!"
If only we could listen again to Mel Allen and Red Barber calling the Cardinals vs Yankees World Series of 1942!
Hall of Famers Barber and Allen teamed up again for the 1949 Series which featured the Brooklyn Dodgers and the Yanks. Joe DiMaggio starred as the Yanks won again.
How cool would it be to somehow go back and listen to Gordon McClendon call the entire game 3 of the 1951 playoffs between Brooklyn and the New York Giants. The game in which Bobby Thompson hit "shot heard "round the world".
If I could, I would tune my radio to 1956, and listen again to Bob Neal and Bob Wolff call Don Larsen's perfect game 6 against the Dodgers.
Or the same duo calling the winning hit of that same Series. Jackie Robinson drove in the winning run with a single to left. It was Robinson's last major league hit.
Wouldn't you just love to hear Ernie Harwell call Ted Williams pinch hit appearance in the 1958 All Star game.
Being a Pittsburgh Pirate fan, I can picture myself as a kid sitting by our family's radio listening to NBC's broadcast of game 7 of the 1960 World Series. After a wild, run scoring game, Bill Mazeroski leads off the tenth inning. After taking ball one, the Yankees' Ralph Terry delivers, and Chuck Thompson calls the result, "Art Ditmar throws. There's a swing and a high fly ball going deep to left. This may do it! Back to the wall goes Berra! It is . . . over the fence, home run, the Pirates win! Ladies and gentlemen, Mazeroski has hit a one-nothing pitch over the left field fence at Forbes Field to win the 1960 World Series for the Pittsburgh Pirates!"(Chuck Thompson actually said Art Ditmar even though Ralph Terry was on the mound for the Yanks.)
Who could forget game 4 of the 1961 World Series, in which Whitey Ford broke Babe Ruth's record of 29 2/3 scoreless innings by upping the record to 32. Jeeze, I'd love to hear Bob Wolff and Waite Hoyt call that one again.
I'd give up watching baseball on TV for a week to hear Gil Hodges hit the Mets' first ever home run at Sportsman's Park in St. Louis in 1962.
Or to hear Ernie Harwell and Joe Garagiola call Sandy Koufax's 15 strike outs in game one of the '63 series.
Next, I'd tune my radio in time to 1964 and listen to Blaine Walsh and Dan Daniels bring us Johnny Callison's All Star game winning home run at Shea Stadium.
Ah man, there are so many memories of the old radio broadcasts.
In 1967, Hall of Famer Ernie Harwell again behind the microphone would call game 1 of the World Series as Bob Gibson of the Cardinals strkies out 17 Detroit Tigers.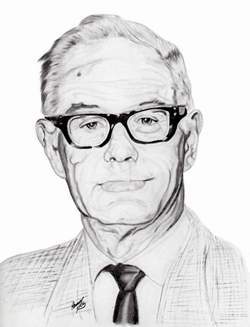 Whether it was Bob Prince calling a Roberto Clemente homer in the 1971 series, or Jim Simpson's call of the 10 inning thriller in game 4 of the Miracle Mets 1969 championship. Each broadcast has it's own special place in time. Whether you prefer radio or tv, we each grew up with a favorite team. Along with that team came our beloved play by play announcer.
If you were a New York Yankees fan, Mel Allen was your guy. Boston Red Sox fans were treated to the familiar voice of Curt Gowdy.
Maybe you listened to the Cardinals on KMOX in St. Louis and heard Harry Caray.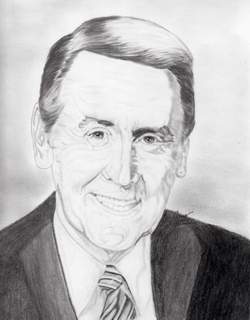 Vin Scully is in your brain if you are a Los Angeles Dodger fanatic.
Harry Kalas and Richie Ashburn had the ear of the Phillies fans for decades.
Lindsey Nelson was one of my favorite voices for the New York Mets.
My personal favorite was Bob Prince, who brought us the Pittsburgh Pirates games from 1948-1975.
You can probably tell already which side of this argument I'm on. Hey, for sure, I watch games on TV. I mean after all, when there is a close play or a home run, we get to see that play over and over from every conceivable angle. And still argue about the call!
But for me, the game that goes on in my mind while listening to a broadcaster paint the action with words is far better. I can remember as a kid listening to Phillies and Pirates games. The whole Major League thing seemed bigger to me then.
Now, back then, even if you did watch the games on TV, the quality of the broadcasts were not like they are today. There was not nearly as much instant replay and only two or three different views of the action. Usually from behind home plate or behind the pitcher.
In 1971, my family was on vacation in the Pocono mountains here in Pennsylvania. I was fifteen years old. On July 13, we sat outside the little cabin we were staying in and tuned the radio into the NBC broadcast of the Major League All Star Game from Detroit. Jim Simpson and Sandy Koufax brought us the call.
During that game, all of the scoring was from home runs. There were six of them and all were hit by future Hall of Famers. That was the night Reggie Jackson smoked one off the light tower in right field. Late in the game my hero, Roberto Clemente, hit a long home run to center field off of the Tiger's Mickey Lolich. I'll never forget that night.
Most of these guys are gone now. Many of them have a plaque in Cooperstown. But if I could listen again to the voices of the game, I would. I surely would.

Return From Voices Of Baseball To Baseball Articles