Order By Mail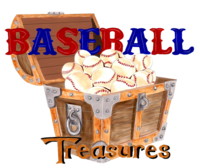 To order your Baseball Treasures by Mail, click here to please print this form.
(If you can't print the order form, "save it" to your computer, then print it.)
I'll gladly accept your personal check and money orders. Personal checks will have to "clear".
Shipping is Free anywhere within the Continental United States.
Please email me for an International shipping quote before ordering (Including Alaska and Hawaii).
When filling out your order form, please print clearly. I will email you when I receive your order.