Carl Yastrzemski Art 2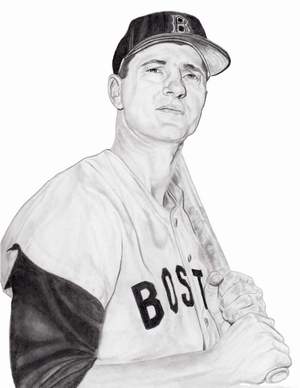 This Drawing Has Been Sold
Carl Yastrzemski played 23 seasons with the Boston Red Sox. He played in 3,308 games which puts him second all time.
He ranks sixth in career hits with 3,419 and 12th in runs batted in with 1,844.
Yaz won seven Gold Gloves and led the American League in Batting Average three times(1963,1967,1968).
In 1967 Yastrzemski won the Triple Crown batting .326 with 44 home runs and 121 runs batted in. He was named the American League's Most Valuable Player that season.
Yastrzemski is the all time Boston Red Sox leader in RBIs, runs, hits, singles, doubles, total bases and games played. He is second in home runs behind Ted Williams.
Carl Yastrzemski won the 1967 Hutch Award, the 1967 Major League Player of the Year and the 1970 All Star Game MVP.
Yaz was elected to Baseball's Hall Of Fame in 1989.



Return from Carl Yastrzemski Art 2 to Baseball Art