This Legends Hand Painted Famous Moments Baseball features two of my original paintings of Kirk Gibson.
This Baseball Is Available.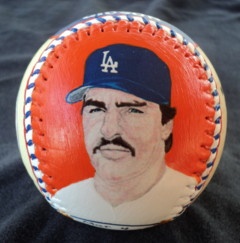 Side one is my close up painting of Kirk Gibson. Click here for a closer look.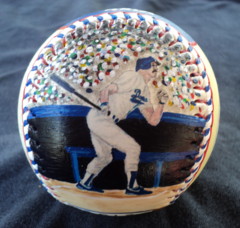 Side two has my painting of Kirk's swing hitting the now famous home run off of Dennis Eckersly in game 1 of the 1988 World Series. Click here for a closer look.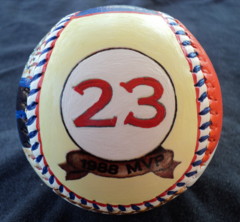 Side three has Gibson's hand painted number 23 and the year he won the NL MVP Award.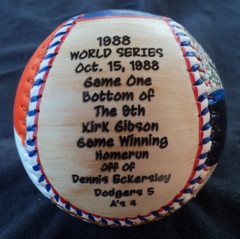 Side four tells the story of this famous moment in baseball.
  Side five, which is the top of the baseball, has has "Kirk Gibson" hand painted in Dodger's colors.
  Side six, which is the bottom of the baseball, has my signature along with the date that this Legends Hand Painted Baseball was completed and trimmed with gold. Also you will see "1 of 1". This means that this is number one of only one created. This is a one of a kind piece of art. There will never be another exactly like it.