What I Need

When you order your son's little league football, this is what I will need from you.
The first thing is a big, clear photo of your son with his helmet on or off if that's what you want. Also his jersey. Make sure I can see his face. I need to see details to create a perfect football for you. No "mouth piece".
Here's an example: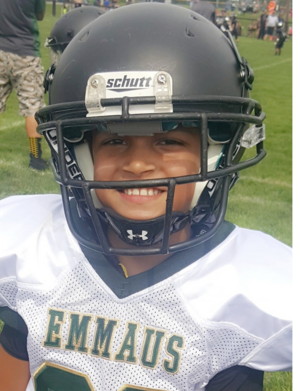 This is the photo my friend Javier sent me for his son's football on the previous page.
I'll also need:
*Your team's name.
*Your son's jersey number.
*A team logo.
*Your son's name.
*Team Record. If you would rather have something instead of your team's record, I can do that too. Maybe your son has a "nickname" or something like that.
* Also your team's colors.
Contact Me and we will discuss the details.